Frequently Asked Questions
GCU Arena invites our guests to have an enjoyable and safe experience at our scheduled events. Please review the following frequently asked questions about our policies and the available features at our venue.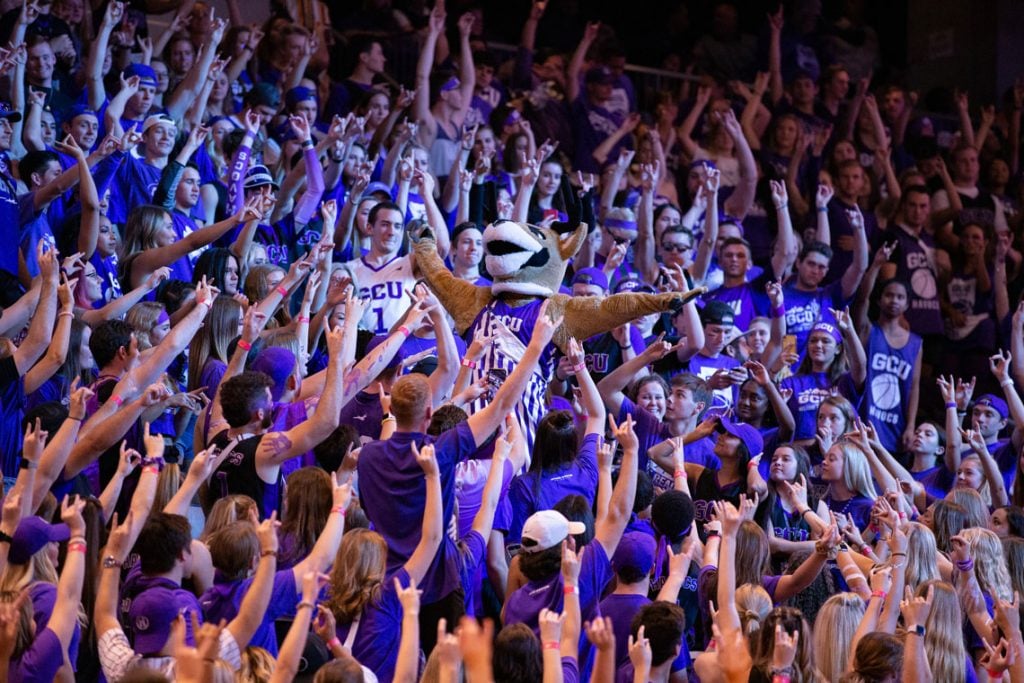 GCU Arena Policies and Rules FAQs
Are bags allowed in GCU Arena?
Yes, clear bags are required. No bags larger than 12" x 12" will be permitted. Bags are subject to search prior to entry.
Are cameras allowed?
GCU Arena does not permit flash photography or cameras with detachable lenses. This camera policy may occasionally be adjusted to suit a particular event, in which case the modified policy will be posted at the Arena entrance.
Is vaping allowed?
GCU maintains a nonsmoking and nonvaping campus. Neither smoking nor vaping is allowed at any GCU location, including the Arena.
Are strollers allowed?
Although we encourage guests of all ages to enjoy our scheduled events, strollers are not permitted in the Arena.

Public Safety and Venue Entry FAQs
What security measures can guests expect?
GCU Arena's top priorities are the safety and security of our guests. At this time, clear bags are required. No bags larger than 12" x 12" will be permitted. Bags are subject to search prior to entry. Guests may be required to walk through metal detectors. In addition, certain items are prohibited in the Arena.
To which entrance should I direct my rideshare driver?
The current rideshare lot is at the corner of Colter and 30th Drive for drop-off and pick-up.
Where is the entrance for basketball games?
The entrance for basketball games is at 34th Avenue and Camelback (exiting out 35th Avenue). This entrance is only available for men's basketball games. Please visit our Directions and Parking page for more information.
Can I return to GCU Arena after leaving an event?
The re-entry policy varies by event. Please refer to signage posted at the main doors.
Which items are prohibited in GCU Arena?
GCU Arena does not permit guests to bring in any of the following items. All guests and their belongings are subject to a security search. Additionally, guests may need to enter through metal detectors. If security personnel determine an item to be a potential security hazard, it will not be permitted inside, even if it does not appear on the following list of prohibited items:
Weapons, including but not limited to firearms, knives, pepper/OC spray, tasers, bats, poles and pipes
Illegal drugs and drug paraphernalia
Noisemakers
Outside food and drink (one sealed water bottle per person is permitted)
Alcohol (please refer to the alcohol policy under "Food and Beverage FAQs.")
Glass bottles
Animals (service animals are allowed)
Balloons
Flags, banners and posters larger than 12" x 12"
Wrapped gifts
Aerosols of any kind
Masks that are solely intended to conceal identity (protective masks and face coverings worn for health and safety reasons are permitted)
Laser pointers
Audio/visual devices
Any other items determined to be potential safety hazards
All people and belongings entering this area are subject to search

Food and Beverage FAQs
Can I purchase alcohol at GCU Arena?
All athletic and student events are alcohol-free. Guests are not permitted to bring alcohol into the Arena. Occasionally, alcohol may be sold for certain community concert events.
Are concessions available?
Yes. You will find five concession stands at various places throughout Levels 1 and 2. There are no concession stands on the mezzanine level.
Where are the drinking fountains?
You will find drinking fountains on the east side of the lobby and the second floor at Sections 102, 105, 111 and 114.

Arena Features and Resources FAQs
Is there an ATM at GCU Arena?
You will find a Copper State Credit Union ATM near the Lope Team Shop entrance in the lobby. In addition to cash, all concession stands accept all major credit cards except American Express and Visa debit cards.
Where are the family restrooms?
There is one on the concourse level and one on the main level. Both family restrooms are equipped with changing tables.
Is first aid available?
First-aid supplies are available on the east side of the main lobby.
Can I take a tour of Grand Canyon University Arena?
Tours of GCU, including the Arena, are frequently conducted by staff in the Antelope Reception Center (ARC). Schedule your visit of GCU.
Are wheelchairs and mobility assistance available?
GCU Arena is ADA-compliant, with wheelchair access and handicap-accessible bathroom facilities. Guest Services provides assistance to help guests reach their seats and leave their seats to exit. Guest Services will provide a wheelchair to escort a guest to and from his or her seat. Please bear in mind there may be a short wait time for this service, as a limited number of wheelchairs are available for guest escort. Please also note that the university does not provide wheelchairs for use throughout the campus. Guests, students, faculty and staff are responsible for their own mobility on the GCU campus.
Is Wi-Fi available?
Yes, free Wi-Fi is available in GCU Arena and throughout the GCU campus.

Questions about Guest Services
Where can I find guest services representatives?
Guest services representatives are present in the Arena to ensure that all our guests have a safe and enjoyable experience. The Guest Services Desk is in the Arena lobby to answer questions and assist guests during events. In addition, our representatives can be found at stations throughout the Arena to assist guests.
What should I do if I've lost a member of my party?
If you become separated from your child or any other member of your party, please go to the Guest Services Desk in the Arena lobby or speak with the nearest guest services representative. We will coordinate efforts with security to locate all missing individuals promptly.
What should I do if I've lost or found an item?
Assistance for lost and found items is available at the Guest Services Desk in the Arena lobby. If inquiring about a lost or found item at a past event, please contact Public Safety at 602-639-8100.